1996 – 2022 – 26th Anniversary of Leonard Cohen-Websites in German Language.
Welcome To The COHENPEDIA …

4/ 2021: NEW BOOK OUT (bilingual / English & German):
Gedanken im 5.Todesjahr zweier Legenden/Thoughts in the fifth year of death of two legends
Die Kunst, Sterblichkeit in Musik zu verwandeln oder Wie David Bowie und Leonard Cohen dem Tod musikalisch
begegneten
the art to turn mortality to music or how David Bowie and Leonard Cohen musically faced death
(almost 400 Seiten/ pages, almost 350 never published before photos)
& more #breaking_nes in blog.leonardcohen.de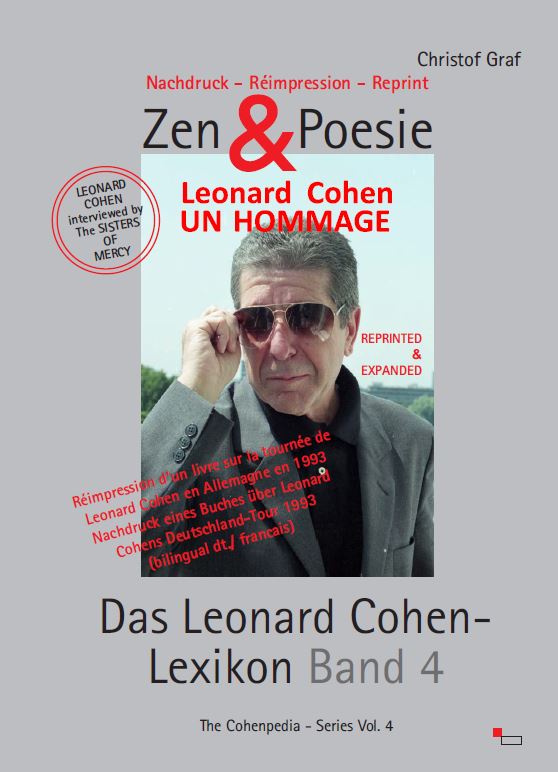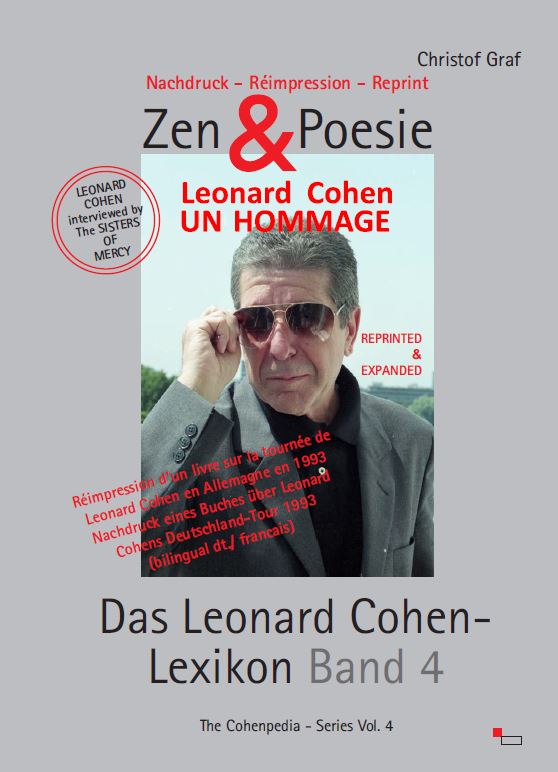 REPRINTED & EXPANDED
Eine Tour-Dokumentation von 1993 – Un documentaire de tournée de 1993
how to get this NEW BOOK 08/ 2020 & more #breaking_news in blog.leonardcohen.de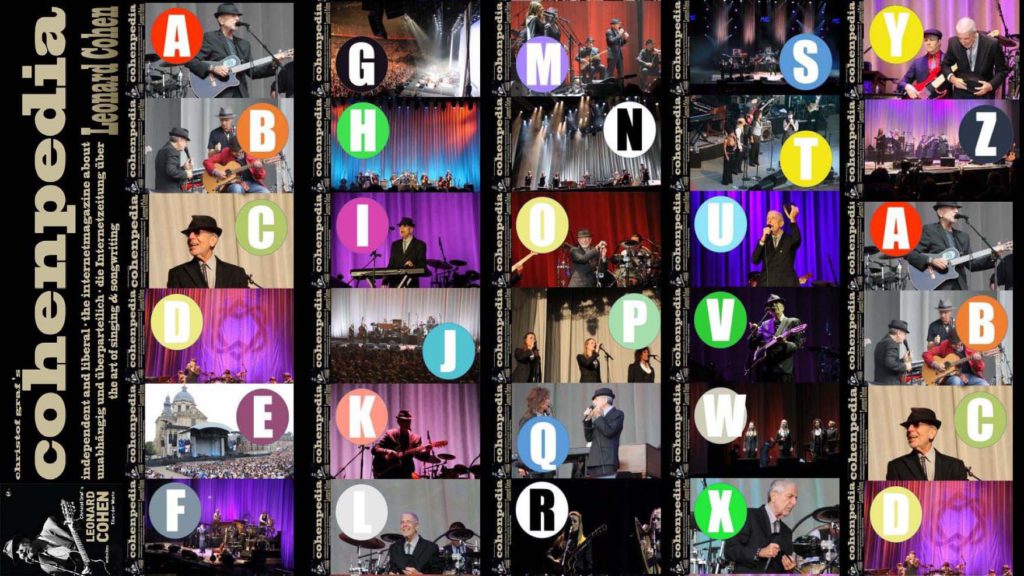 NEW BOOK 03/ 2020 & more #breaking_news in blog.leonardcohen.de
11/ 2019: #breaking_news: New Leonard Cohen Album: THANKS FOR THE DANCE -Release : 22. November 2019 – All Infos in den THANKS FOR THE DANCE-Files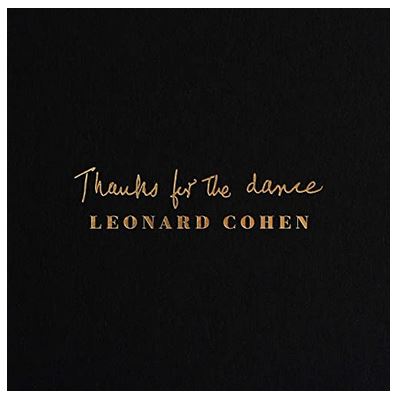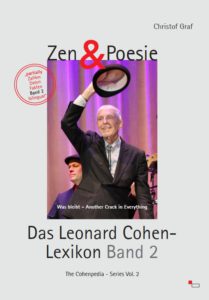 NEW BOOK 05/2019:   & more #breakingnews in blog.leonardcohen.de
"I Intend To Live Forever"
(Leonard Cohen am 13.10.2016 in Los Angeles)
"Leonard Cohen Is Dead – In His Music & Lyrics He Lives On … Forever"
#breaking news: NEW BOOK OUT : All Infos about/ Alle Infos: #THE_FLAME oct2nd 2018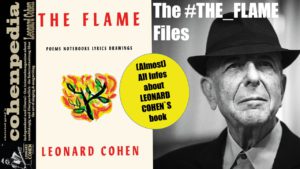 COHENPEDIA.DE mediapartner:
Eine andere Seite von LEONARD COHEN
"Ein Konzertabend der ganz besonderen Art" war ausverkauft meldet der Veranstalter und sagt: THANKYOU FOR SOLDOUT – DANKE
N A C H K L A N G
All Infos on #PERLA_BATALLA`s 2018 Germany-Concert bei den  #OFFENBACHER_LESUNGEN 2018 in den zwei Preview- und im Review – bilingual – E-Lettern No. 6 & 7 (05 & 11  2018) und im blog.leonardchen.de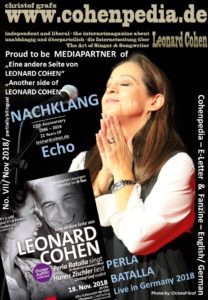 cohenpedia-e-letter-by-christof-graf-no-7-batalla-perla-OFFENBACH-NACHKLANG-bilingual-safety
more in archives-section:
http://cohenpedia.de/a-archives-offenbacher_lesungen_2018-literatur-im-o-ton-eine-andere-seite-von-leonard_cohen/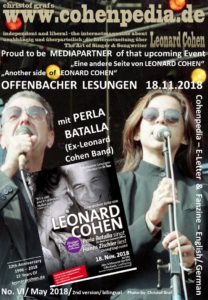 cohenpedia-e-letter-by-christof-graf-no-6-batalla-perla-OFFENBACH-3-bilingual
Alles über Leonard Cohen hier:


(Rest in Peace, Leonard & So Long)
(21.9.1934 – 7.11.2016)
 24 Jahre Leonard Cohen im deutschsprachgen Internet # 1996-2020 # 234h Anniversary of www.leonardcohen.de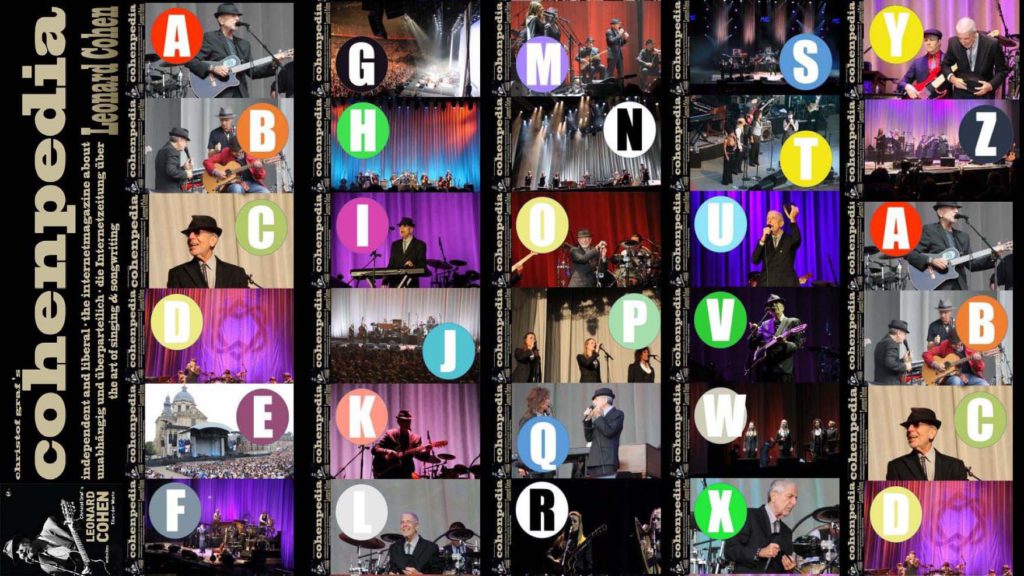 Willkommen zu Christof Graf`s " C o h e n p e d i a " , eine lexikonartige Sammlung von Zahlen, Daten & Fakten, Namen und Schlagwörtern zum Leben und Werk des kanadischen Rockpeten L e o n a r d  C o h e n.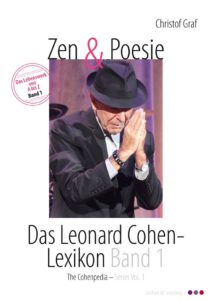 breaking news: #The_Flame #Leonard_Cohen_finding_his_Voice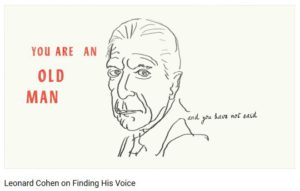 breaking news: #TOWER OF SONG – A Tribute Concert to L.C. 7.11.2017 in Montreal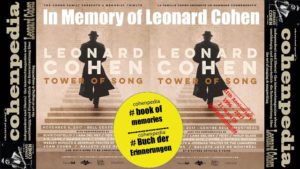 "The  C o h e n p e d i a" ist ein Bestandteil der seit 1996 bestehenden Leonard Cohen-Websites von Christof Graf und damit ein Bestandteil von  www.leonardcohen.de . "C o h e n p e d i a"  ist ebenso wie www.leonardcohen.de sowohl ein Online-Magazin wie auch eine Internet-Zeitung in Sachen "art of singing & songwriting" und beschäftigt sich vordergründig mit dem Leben & Werk, mit Zen & Poesie von Leonard Cohen und mit in dessen Tradition stehenden relevanten Singer/ Songwritern.
# breaking news # LEONARD COHEN IST TOT – Der kanadische Rockpoet verstarb am 7.11.2016 # Alles über sein jüngstes Album  # All Infos in YOU WANT IT DARKER FILES #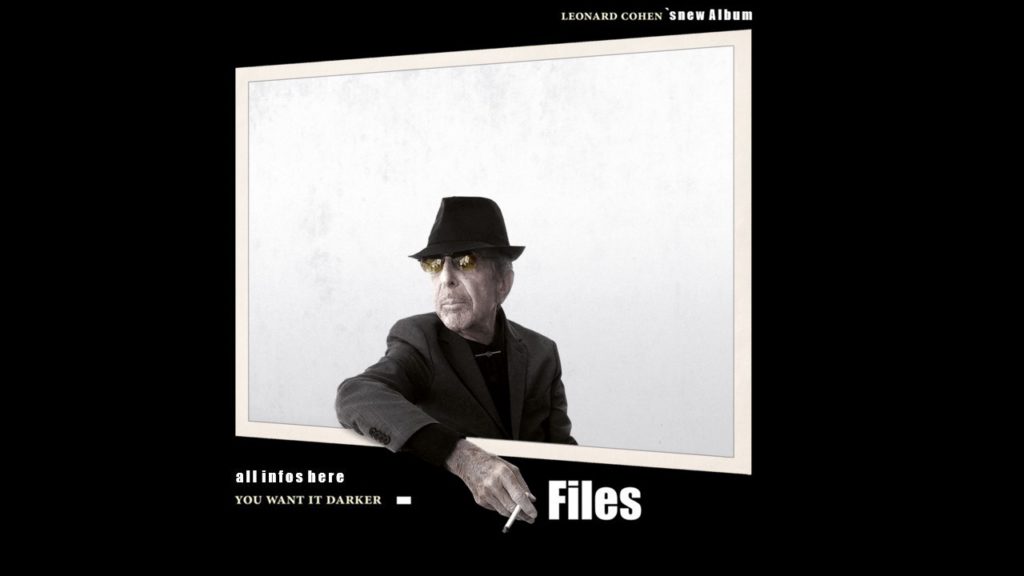 Follow the Updates & Breaking News on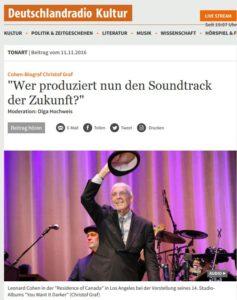 http://www.deutschlandradiokultur.de/cohen-biograf-christof-graf-wer-produziert-nun-den.2177.de.html?dram:article_id=371116
Mehr darüber in den "He-Lives-On-Forever"-Files