presents a new Leonard Cohen-Boxset feat. a Live-CD and the "Tower Of Song"-Tribute on BLU-RAY and much more
So lautete eine Pressemitteilung der UHPF durch ihre beiden Social Media Coaches Anfang August. – Ende August würde folgende Pressemitteilung am 29.8.20 im Netz verbreitet:"
We are sorry to report that due to production issues as a result of the COVID-19 pandemic, the Montreal Leonard Cohen Memorial Events Box Set can't be guaranteed for delivery by the holiday season. Consequently, refunds are being issued to those people who purchased the Box Set. We are told that the Foundation is planning to relaunch the Box Set with ample time in 2021.
We suggest you take down your web posts devoted to the box set or, alternatively, simply post the paragraph below on your site.

So here is the mentioned paragraph:
From the Unified Heart Productions Foundation: "Due to production issues as a result of the COVID-19 pandemic, we are unable to guarantee delivery of the Montreal Leonard Cohen Memorial Events Box Set by the holiday season this year. We are planning to relaunch the Box Set with ample time in 2021. Please subscribe to our mailing list on our website to be notified when the Box Set becomes available for purchase again: cohenboxset.com
Nevertheless hereby you can find Infos about the planned Boxset:
(English & German Version)
English
The Unified Heart Productions Foundation (UHPF), the Canadian charity formed in 2017 to honor Leonard and support the arts, is pleased to announce the release of a unique offering for Cohen fans and collectors — the limited edition Montreal Leonard Cohen Memorial Commemorative Box Set. For a quick peek at what is inside, go to: https://vimeo.com/442467903 (English); https://vimeo.com/442447387 (French).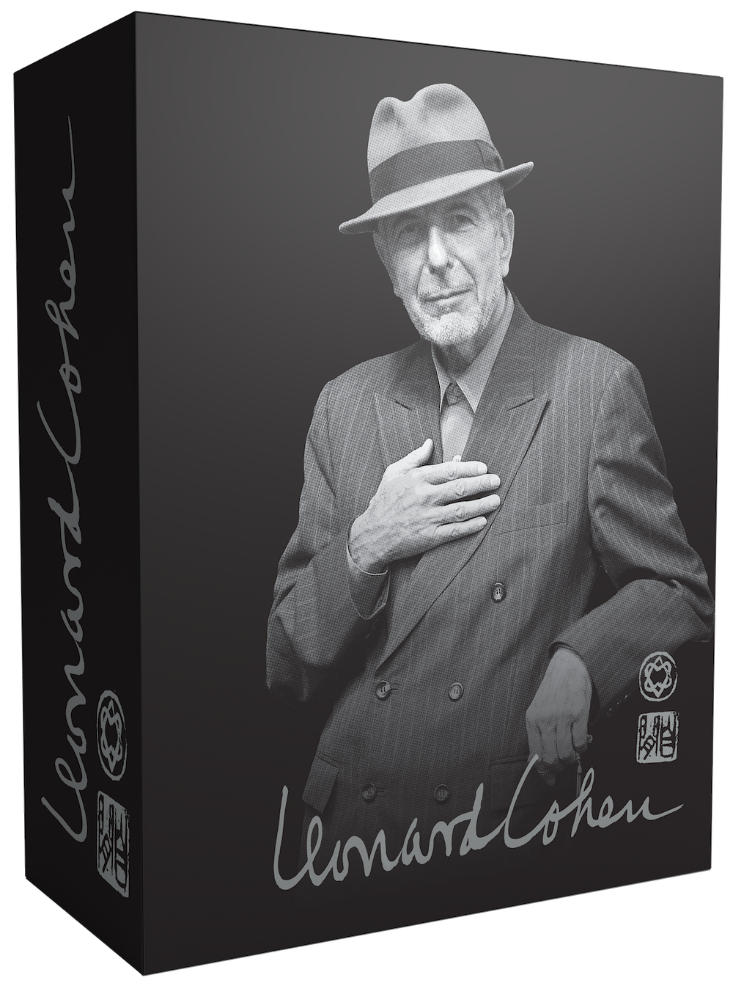 Montreal celebrated Leonard with a memorial concert, a modern art exhibition, a monumental public mural, and a full-length ballet, all to rave reviews in the month following the first anniversary of Leonard's death. This Box Set captures these extraordinary and moving events with an exceptional collection of Blu-Rays, fine art lithographs, a memorial essay with photos, a newly created cloisonné pin, posters and other items. The Box Set also contains a CD of never-before released live performances by Leonard. None of these materials are available publicly.
The UHPF recognizes that many fans could not attend the Montreal events and members of the Leonard Cohen Forum and Cohen websites have been extremely loyal. In appreciation, UHPF is offering a pre-sale through September 7. Fans can purchase the $350 USD Box Set for $250 USD by using a discount code.
The pre-sale begins August 7 and runs through September 7, or as soon as all 1000 boxes designated for the fan pre-sale are sold. The Collector's Box Set is issued in a limited edition of 5,000.
If you wish to learn more, go to cohenboxset.com and be sure to use the pre-sale discount code to make your purchase.
Discount Code: FEDORA
The Memorial Box Set is an extraordinary collection of music, unique performances, fine art, photos and essays that honor Leonard. We have seen it; we suggest you don't miss it. 
… and what is inside the Boxset?
… and what is inside the boxset ?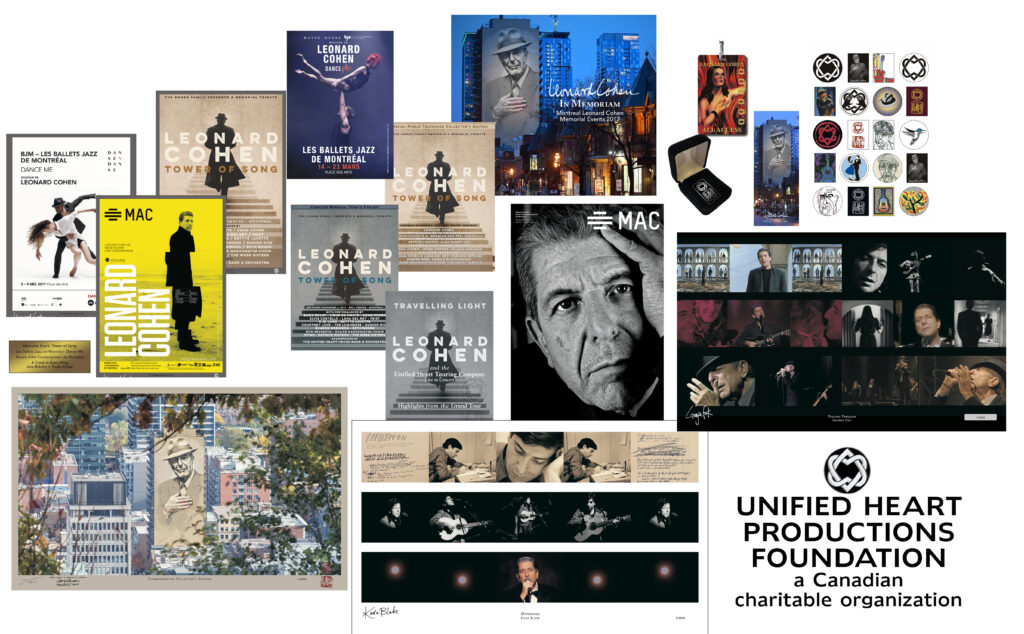 Unified Heart Productions Foundation Presents
● Numbered 1 to 5,000
● Featuring Exclusive Limited-Edition
● Items not sold individually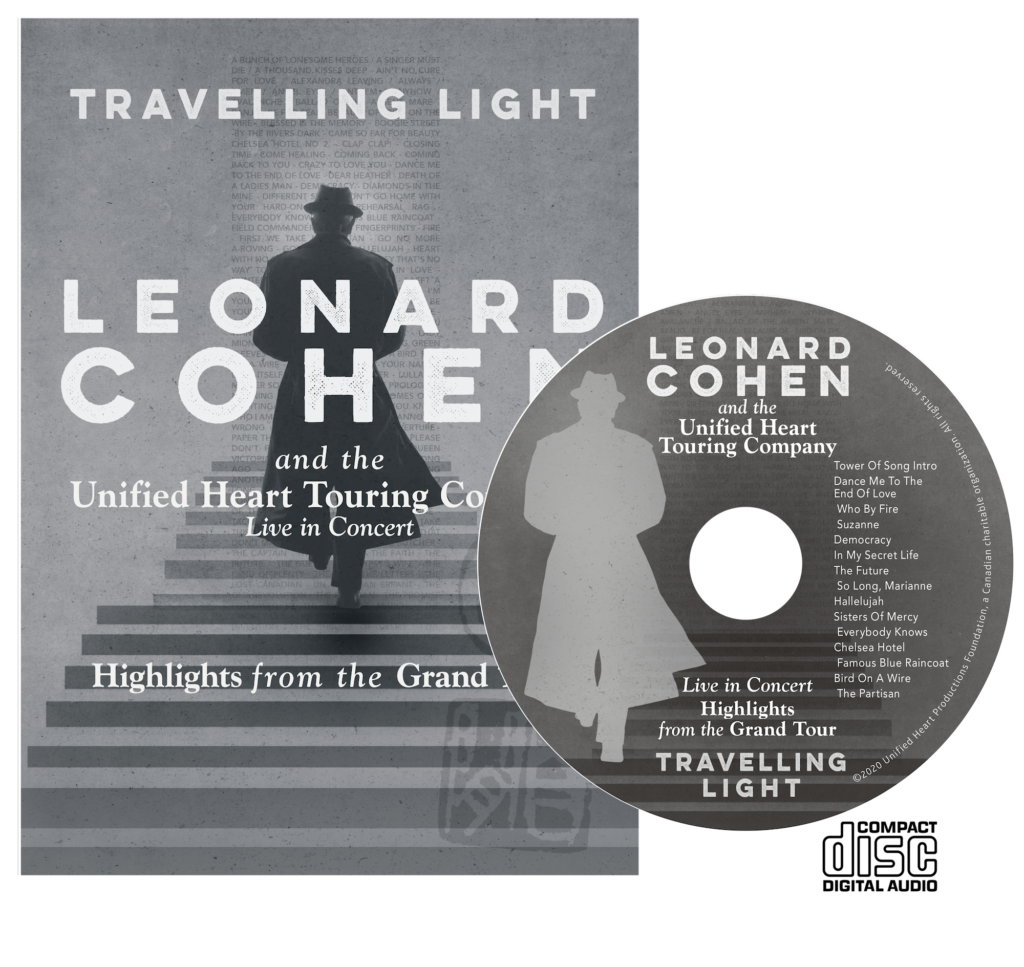 14 never-before released recordings from Leonard's 2008-2013 world tour are included on the CD
Leonard's stunning performance of "Hallelujah" at the Glastonbury festival in 2008 is featured
The CD takes you to Montreal for Leonard's performance of "Suzanne," to Edmonton for the story of the "Sisters of Mercy" and to Paris for "The Partisan"
German Version:
Die Unified Heart Productions Foundation (UHPF), die kanadische Wohltätigkeitsorganisation, die 2017 gegründet wurde, um Leonard zu ehren und die Künste zu unterstützen, freut sich, die Veröffentlichung eines einzigartigen Angebots für Cohen-Fans und Sammler bekannt zu geben – das Montreal Leonard Cohen Memorial Commemorative Box Set in limitierter Auflage . Einen kurzen Überblick über das Innere finden Sie unter: https://vimeo.com/442467903 (Englisch); https://vimeo.com/442447387 (Französisch).
Montreal feierte Leonard mit einem Gedenkkonzert, einer Ausstellung für moderne Kunst, einem monumentalen öffentlichen Wandgemälde und einem Ballett in voller Länge, die alle im Monat nach dem ersten Jahrestag von Leonards Tod begeisterte Kritiken erhielten. Dieses Box-Set fängt diese außergewöhnlichen und bewegenden Ereignisse mit einer außergewöhnlichen Sammlung von Blu-Rays, Kunstlithografien, einem Gedenkessay mit Fotos, einer neu erstellten Cloisonné-Anstecknadel, Postern und anderen Gegenständen ein. Das Box-Set enthält auch eine CD mit nie zuvor veröffentlichten Live-Auftritten von Leonard. Keines dieser Materialien ist öffentlich verfügbar.
Die UHPF erkennt an, dass viele Fans nicht an den Veranstaltungen in Montreal teilnehmen konnten und die Mitglieder des Leonard Cohen Forums und der Cohen-Websites äußerst loyal waren. Zur Anerkennung bietet UHPF einen Vorverkauf bis zum 7. September an. Fans können das 350 USD Box Set für 250 USD unter Verwendung eines Rabattcodes erwerben.
Der Vorverkauf beginnt am 7. August und läuft bis zum 7. September oder sobald alle 1000 Kartons für den Vorverkauf der Lüfter verkauft sind. Das Collector's Box Set ist in einer limitierten Auflage von 5.000 Exemplaren erhältlich.
Wenn Sie mehr erfahren möchten, gehen Sie zu cohenboxset.com und verwenden Sie den Vorverkaufs-Rabattcode, um Ihren Kauf zu tätigen.
Rabattcode: FEDORA
Das Memorial Box Set ist eine außergewöhnliche Sammlung von Musik, einzigartigen Performances, Kunst, Fotos und Essays, die Leonard ehren. Wir haben es gesehen; Wir empfehlen Ihnen, es nicht zu verpassen.