cohenpedia-e-letter-by-christof-graf-no-10-2022-KISSDie Cohenpedia ist die Folgeseite von www.leonardcohen.de und beinhaltet ein über 30 Jahre altes Archiv über das Gesamtwerk von Leonard Cohen und related Artists of Singing & Songwriting. Kontinuierlich wird in regelmäßigen und unregelmäßigen Updates & Upgrades an der www.cohenpedia.de gearbeitet, aktualisiert und ergänzt. Unregelmäßig erscheint ein "Leonard Cohen E-LETTER – For Fans Only".
Aktuell ist E-Letter No. 11 / August 2022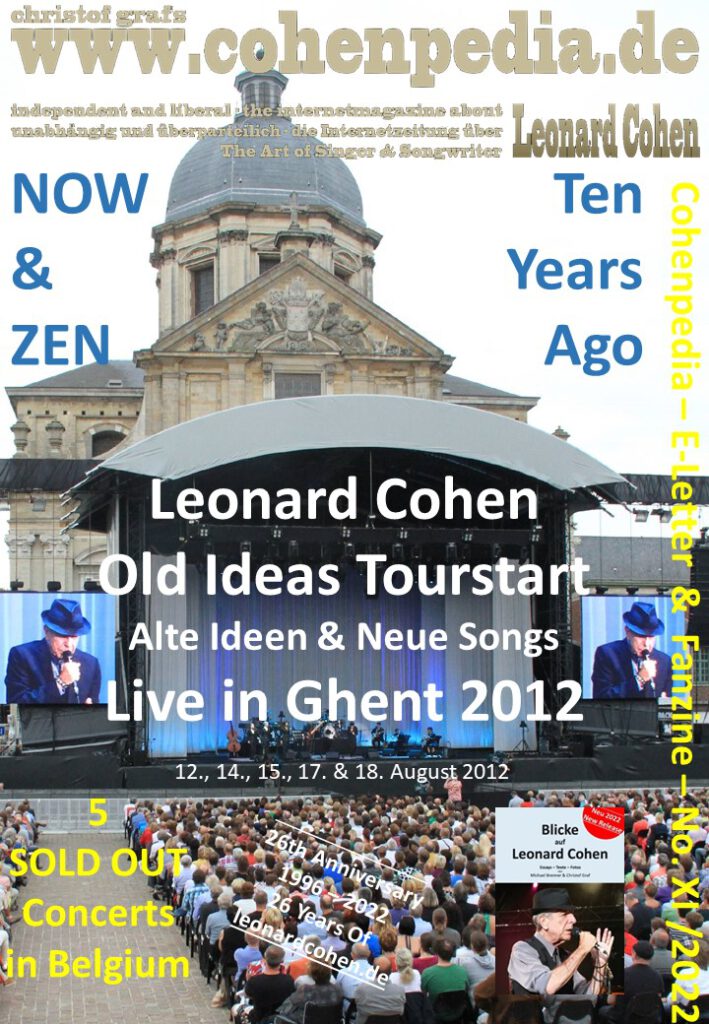 E-Letter No. 10 / Juli 2022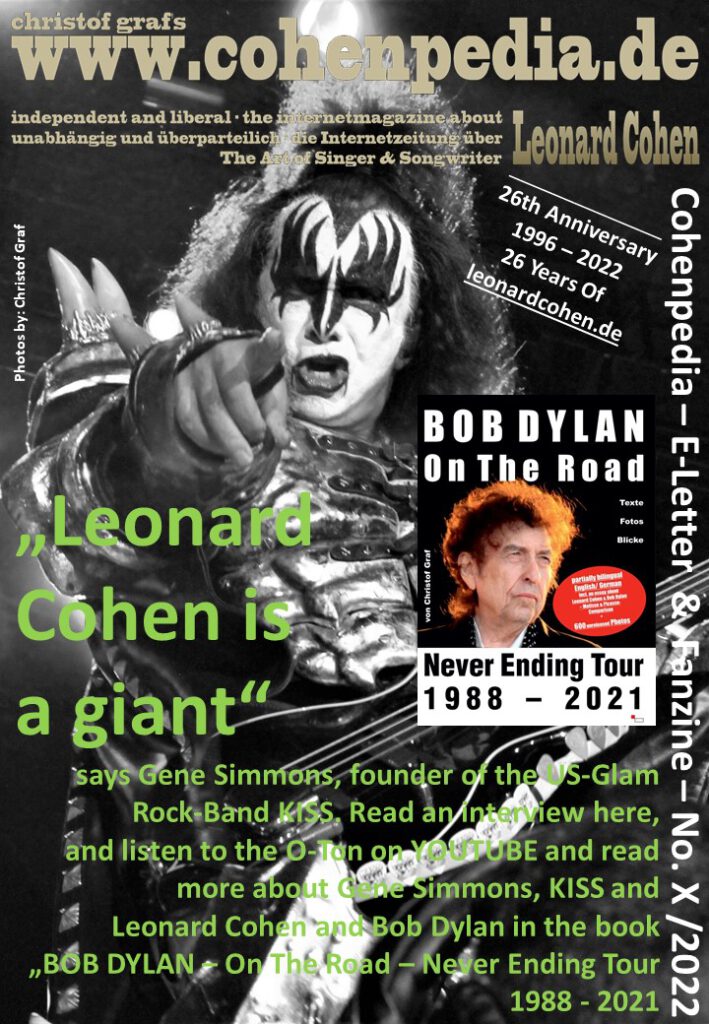 E-Letter No. 9 / November 2021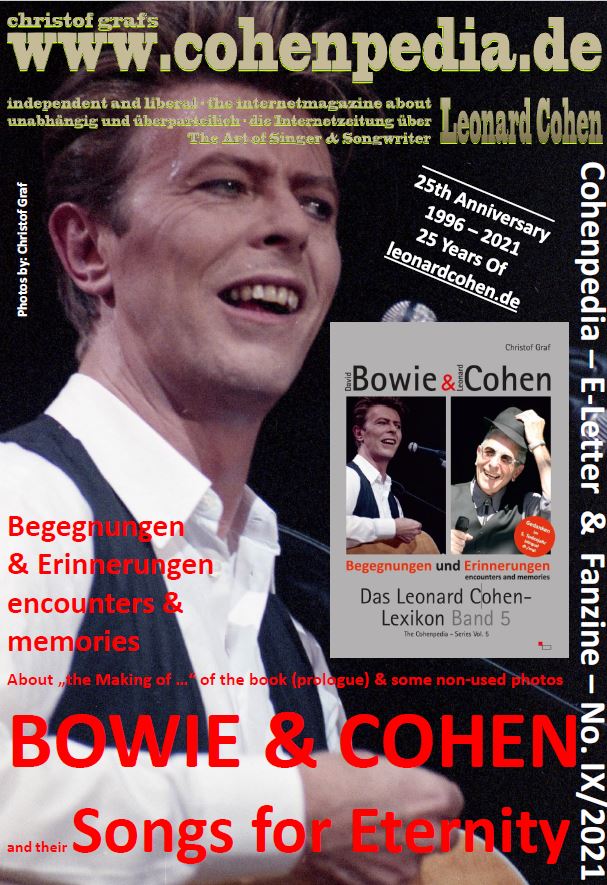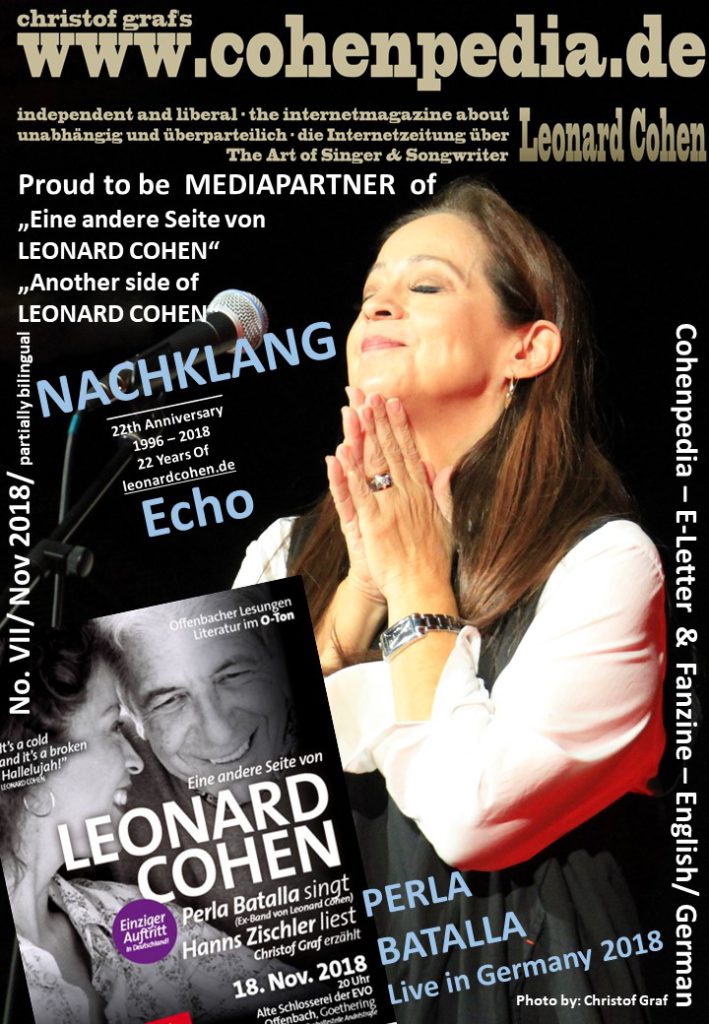 NEW: BILINGUAL VERSION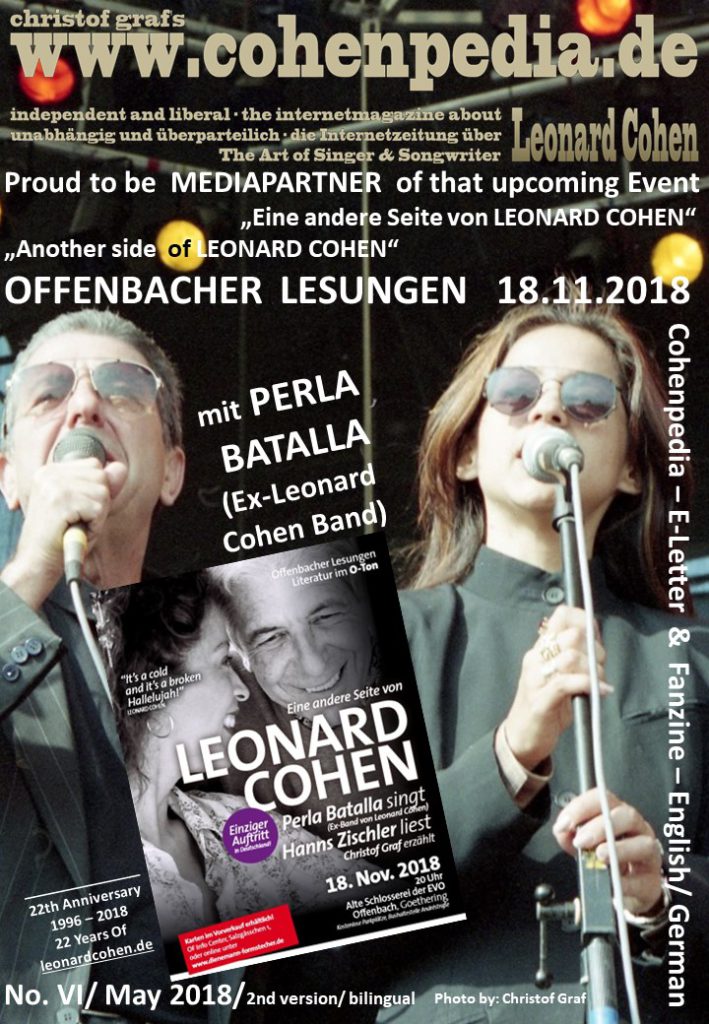 cohenpedia-e-letter-by-christof-graf-no-6-batalla-perla-OFFENBACH-3-bilingual
NEWS & UPDATES zuerst und dann die E-LETTER 🙂
KW-38-2016: Am 21. September, dem Tag von Leonard Cohens 82. September erschien die zweite etwas ausführlichere Pressemitteilung zu YOU WANT IT DARKER, veröffentlicht hier in der Cohenpedia unter denh YOU WANT IT DARKER – Files
KW-45-2016
Leonard Cohen ist am 7. November 2016 gestorben.
KW-38-2016
Im Oktober 2016 veröffentlicht Leonard Cohen im mittlerweile sechsten Jahrzehnt seiner Zusammenarbeit mit Sony Music noch einmal ein neues Album, sein 14. Studioalbum. "You Want It Darker", so der Titel des Longplayers. Es wurde von Cohens Sohn Adam Cohen produziert und verspricht nach ersten Statements aus dem Umfeld Cohens ein weiterer Meilenstein für den Meister der leisen Töne zu werden. Alles über das neue Album in den hiesigen http://cohenpedia.de/2016-youwantitdarkerfiles-by-christof-graf/  sowie im blog : http://blog.leonardcohen.de/
KW-38-2016
Am 21. September 2016 wird Leonard Cohen 82 Jahre alt: Happy Birthday !!!
KW-25-2016
20th Anniversary of the first German Leonard Cohen-Website
Mit dem Tag des 22. Juni 2016 stehen meine deutschsprachigen Leonard Cohensites 20 Jahre im Netz. Anfangs noch bei AOL unter dem "members-aol-seiten"…, dann unter den damit verlinkten "leonardcohen.de" seiten und nunmehr als eigenständige www.COHENPEDIA.de
KW-46-2015
In der KW 46-2015 werden im blog.leonardcohen.de ausschließlich französische Texte veröfentlicht.
E –  LETTERS
Cohenpedia – E-Letter No. 1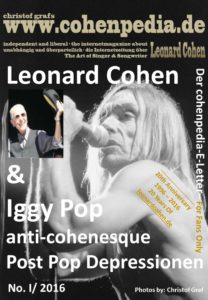 cohenpedia-e-letter-by-christof-graf-1-2016-POP-Iggy-und-Leonard-Cohen-n
Cohenpedia – E-Letter & Fanzine  No. 2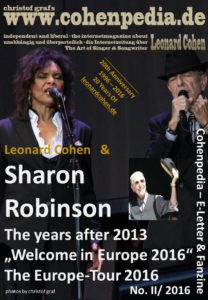 cohenpedia-e-letter-no-2-by-christof-graf-2-2016-ROBINSON-Sharon-and-Leonard-Cohen-120816
Cohenpedia – E-Letter & Fanzine No. 3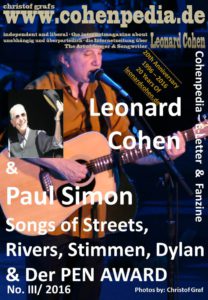 cohenpedia-e-letter-by-christof-graf-no-3-2016-paul-simon-headsite
Cohenpedia – E – Letter & Fanzine No. 4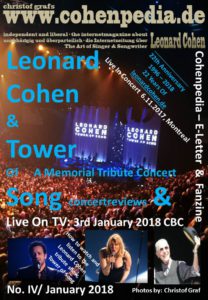 cohenpedia-e-letter-by-christof-graf-no-4-tower-of-song-headsite
Cohenpedia – E – Letter & Fanzine No. 5 (12/ 2018)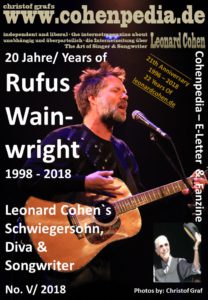 cohenpedia-e-letter-by-christof-graf-no-5-2018-rufus_wainwright
Cohenpedia – E – Letter & Fanzine No. 6 & 7  ( 05/ 2018)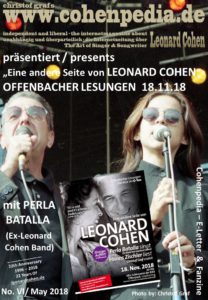 cohenpedia-e-letter-by-christof-graf-no-6-batalla-perla-OFFENBACH-1
NEW: BILINGUAL VERSION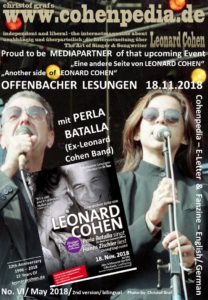 cohenpedia-e-letter-by-christof-graf-no-6-batalla-perla-OFFENBACH-3-bilingual
Cohenpedia – E – Letter & Fanzine No. 8 (update 2019, 2020 & 2021)Nov 2021)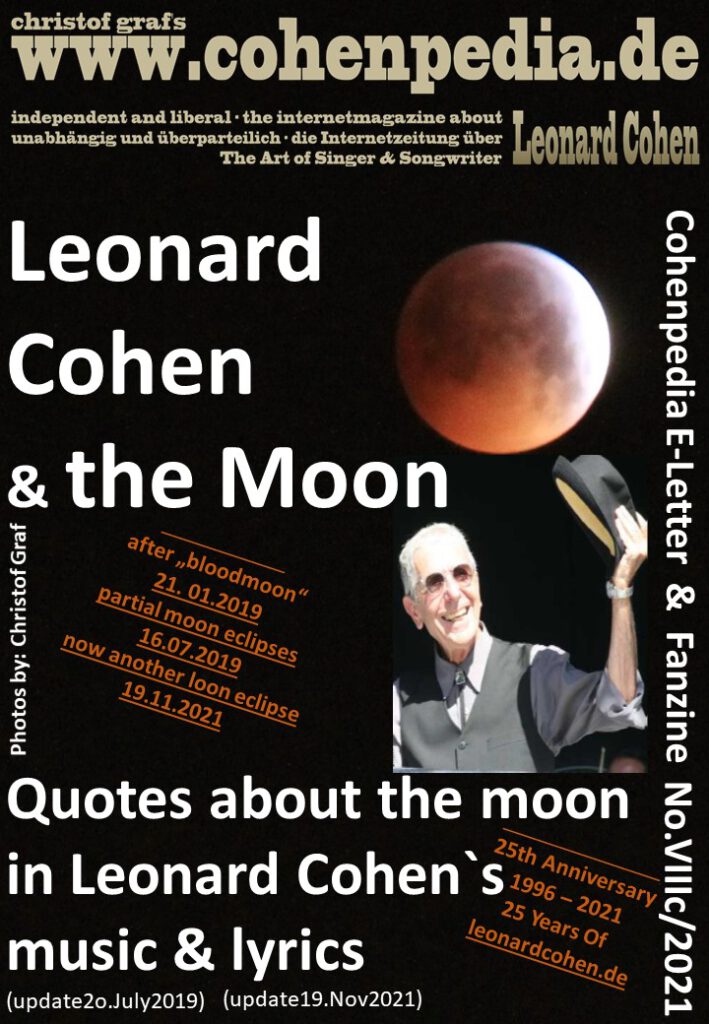 cohenpedia-e-letter-by-christof-graf-no-8-update-c-2021-update_Leonard_Cohen_and_the_moon_2021
Cohenpedia – E – Letter & Fanzine No. 9 (Nov 2021)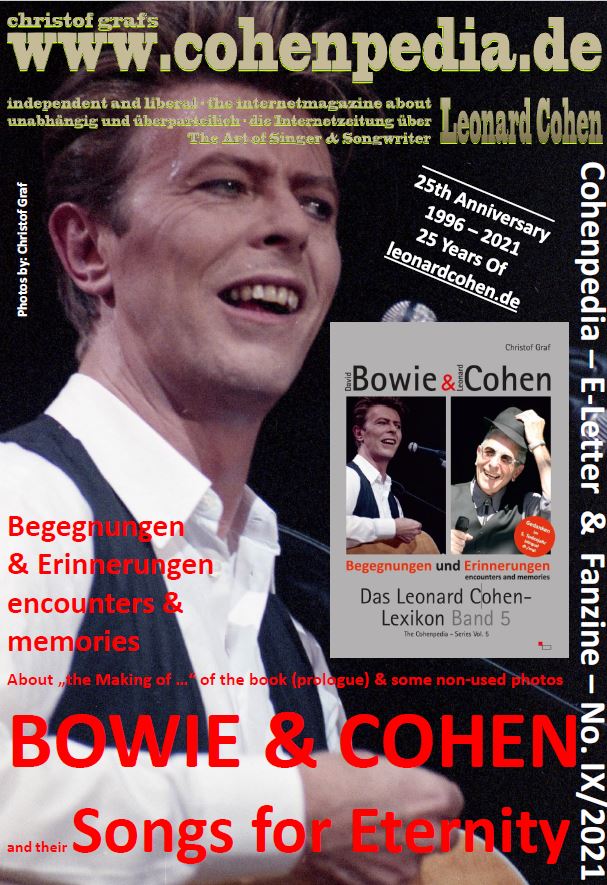 cohenpedia-e-letter-by-christof-graf-no-9-2021-david-bowie-Begegnungen
Cohenpedia – E – Letter & Fanzine No. 10 (Juli 2022)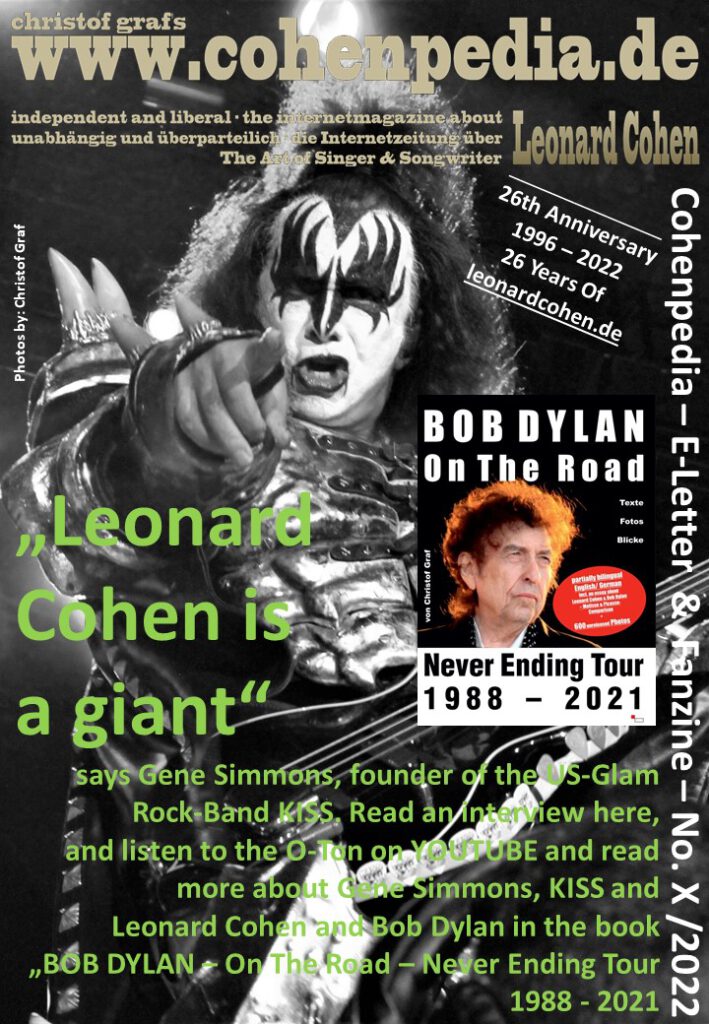 cohenpedia-e-letter-by-christof-graf-no-10-2022-KISS
Cohenpedia – E – Letter & Fanzine No. 11 (August 2022)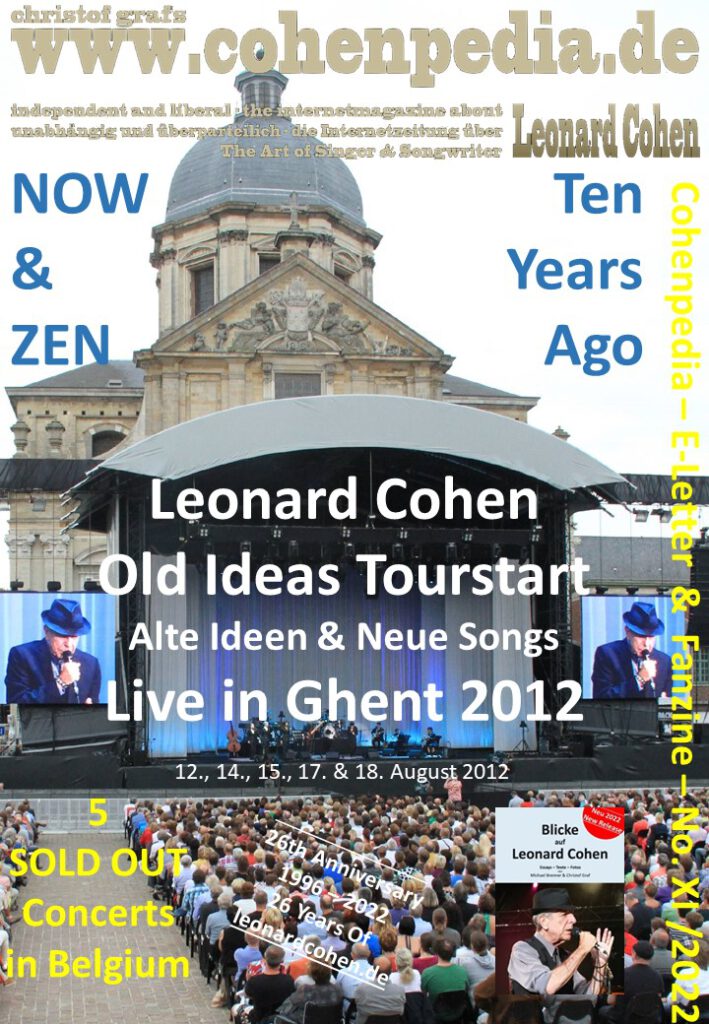 cohenpedia-e-letter-by-christof-graf-no-11-2022-Live_in_gent-headsite