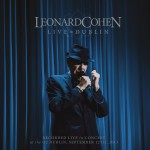 Alles über das Album
Zahlen, Daten & Fakten
Erscheinungsjahr
Titel/ Songs
Produzent
Songtexte (englisch)
Songtexte (deutsch)
Sonstiges
Ja, es wurde schon darüber im letzten Jahr diskutiert, Ja, es sollte schon im letzten Jahr herauskommen. Und ja, jetzt kommt es heraus: Live in Dublin. Ein Live-Album, das die vollständige Länge eines kompletten Konzertes aus dem Vergangenen Jahr (am 12. September) 2013 zeigt. Am 28. November 2014 erscheint "Live In Dublin".
Columbia Records and Legacy Recordings Set to Release Leonard Cohen – Live In Dublin, the Artist's First High Definition Full Concert Recording, on Tuesday, December 2
Recorded at Dublin's O2 Arena in September 2013, Evening's Length Leonard Cohen Concert Available in 3CD/DVD, 3CD/Blu-ray and Digital Configurations
* * * * *
Columbia Records and Legacy Recordings, the catalog division of Sony Music Entertainment, will release Leonard Cohen – Live In Dublin, an extraordinary full-length concert recording and film, on Tuesday, December 2.
The first (and only) release of a complete Leonard Cohen concert to be shot in high definition, Live In Dublin will be available in 3CD/DVD, 3CD/Blu-ray and digital configurations.
Lensed and recorded at Dublin's 02 Arena on September 12, 2013, Leonard Cohen – Live In Dublin documents a peak performance from the musician's monumental sold-out 2012-2013 world tour, introducing Cohen's then-latest release (2012′s Old Ideas) within a major canonical on-stage retrospective.
This state-of-the-art audio-visual HD presentation of a full-length concert from the Old Ideas World Tour delivers this artist's repertoire (backed by a band recognized by critics as his best ever) with the intimacy, intensity and poetic beauty that have become hallmarks of a Leonard Cohen concert. Live In Dublin recreates the deep emotional connection that audiences felt so powerfully and critics praised universally with five-star reviews during Cohen's most recent tour.
Live In Dublin is the singer-songwriter-novelist-performer's second new release this year. On September 23, 2014, two days after Cohen's 80th birthday, Columbia Records released Popular Problems, the Canadian bard's 13th studio album of new material since his 1967 debut, Songs of Leonard Cohen. An international success, Popular Problems reached #1 on the iTunes chart in 31 countries and entered the Billboard 200 at #15 while debuting at #1 on the Austrian, Canadian, Dutch, New Zealand and Swiss album charts; the new album also debuted Top 5 in Belgium (#2), Finland (#2), Germany (#4), Italy (#5) and Sweden (#5)
An immersive viewing experience, Leonard Cohen – Live In Dublin's three hours of music and magic includes an 11-song first set, a 10-song second set and an 8-song encore. The DVD features bonus live tracks recorded in Canada in 2013.
Leonard Cohen – Live In Dublin
Set 1
Dance Me to the End of Love
The Future
Bird on the Wire
Everybody Knows
Who By Fire
The Gypsy's Wife
Darkness
Amen
Come Healing
Lover Lover Lover
Anthem
Set 2
Tower of Song
Suzanne
Chelsea Hotel #2
Waiting for the Miracle
The Partisan
In My Secret Life
Alexandra Leaving (Sharon Robinson)
I'm Your Man
Recitation w/ N.L.
Hallelujah
Take this Waltz
Encore
So Long, Marianne
Going Home
First We Take Manhattan
Famous Blue Raincoat
If It Be Your Will (Webb Sisters)
Closing Time
I Tried to Leave You
Save the Last Dance for Me
DVD Bonus songs
Show Me The Place – Halifax, NS, Canada – April 13, 2013 – Halifax Metro Centre
Anyhow – St. John's, NL, Canada – April 20, 2013 – Mile One Centre
Different Sides – St. John, NB, Canada – April 15, 2013 – Harbour Station
In celebration of his milestone 80th birthday (September 21), Cohen's endless poetic energy and enduring legacy are honored with a new artist page on iTunes (www.itunes.com/leonardcohen), which features Popular Problems and includes all 12 prior studio albums Mastered For iTunes.
www.LeonardCohen.com.
ABOUT LEONARD COHEN:
Leonard Cohen is a master songwriter, musician, poet, novelist and visual artist whose stunning body of original work has touched the lives of millions with a career spanning six decades.
His explorations of spiritual, interpersonal, romantic and political themes have impacted countless contemporary recording artists and writers. He has sold over 23 million albums, worldwide and published 12 books, the most recent of which was 2006′s 'Book of Longing', a collection of poetry, prose and drawings, which reached #1 on the Top 10 Hardcover Fiction Books in Canada.
Cohen's influence on musical and theatrical artists the world over is inestimable. In fact, when Cohen was inducted into the Rock & Roll Hall Of Fame in March 2008, the revered Lou Reed singled out Leonard as one of the "highest and most influential echelon of songwriters." Cohen's songbook has been covered by hundreds of recording artists including Jeff Buckley, Bob Dylan, Nina Simone, Johnny Cash, Lou Reed, Tori Amos, Nick Cave, Joan Baez, Harry Belafonte, Rufus Wainwright and the Civil Wars. Tribute albums have been released in Cohen's honor in France, Norway, Canada, Spain, Swedish, Czech Republic, South Africa and the United States. In 2008 Cohen's "Hallelujah" became the fastest-selling digital single in European history when three separate versions of the song appeared simultaneously on the UK singles chart – Cohen's own original recording, a version from Jeff Buckley and another from X Factor winner Alexandra Burke. Additionally, Leonard's songs have been frequently selected to illustrate the emotion of motion pictures and television programs and have been heard in Watchmen, The Passion of The Christ, Natural Born Killers, The Wonder Boys, Pump Up The Volume, Secretary, The West Wing, The O.C. and many others.
Leonard Cohen has been honored as a Grammy Lifetime Achievement Award Recipient (2010), inducted into the Rock & Roll Hall Of Fame (2008), the Canadian Music Hall Of Fame (2006), the Canadian Songwriters Hall of Fame (2006) and the Songwriters Hall Of Fame (2010). He has received the prestigious Principe de Asturias Prize – the highest literary award in Spain (Spain, 2011) as well as the Glenn Gould Prize, awarded to an individual for a unique lifetime contribution that has enriched the human condition through the arts (Canada, 2011). The Canadian native has earned his country's highest civilian honors – Officer of the Order of Canada (1991), Companion to the Order of Canada (2003), Grand Officer of the National Order of Quebec (2008).
Cohen's return to live performance in 2008 was met with extraordinary and unanimous accolades as he performed around the world from through 2013. Cohen's mesmerizing recent performances, deemed "a spiritual experience" by all accounts, totaled 470 shows in 31 countries attended by four million fans.
Das KONZERT-PLAKAT & PRESSE-STIMMEN zum Dubliner-Konzert vom 11./ 12. September 2013 in der Dubliner 02-Arena:
Die beiden Dubliner Konzerte vom 11. und 12. september 2013 wurden wie auch sämtliche anderen Konzerte der welttournee frenetisch gefeiert. Anbei einige Presse-Stimmen:
"what brings the crowds out year after year to see him? It's the sheer quality… His voice is pure liquid gold… As long as Leonard Cohen keeps serving up his smooth nectar of timeless songwriting and skilled delivery, there'll always be a welcome for him here."
– Kevin Courtney, The Irish Times, September 12, 2013
"What was really amazing was how he succeeded in making the giant space of the O2 into something that felt smaller- intimate even… The Webb sisters' version of 'If it Be Your Will' was haunting as was Sharon Robinson's 'Alexandra Leaving' – these women are great singers… Once again our souls were spoiled with a Tower of Song from a giant of a man and we loved it. See you again next year hopefully!"
– Ellie Balfe, Entertainment.ie, September 12, 2013
"Sharon Robinson is as breathtaking as ever… The Webb Sisters continue to coat Cohen's catalogue with exquisite harmonies… There are some exceptional musicians in this gang… memorable evening of elegant and peerless musicianship…"
– Chris Wasser, Herald, September 13, 2013
"Cohen…is in the form of his life… he offers reminder after reminder of his supreme talents as a songwriter. He dips into that extensive, career-spanning back catalogue and virtually every song is a success. His wonderful vocals and consummate showmanship are apparent…"
– John Meagher, Irish Independent, September 13, 2013
Mehr dazu auch unter Marie Mazurs Collection of Tour-Reviews:
http://www.webheights.net/speakingcohen/wt13reportindexeur.html
LIVE IN DUBLIN – … und das schrieb THE IRISH TIMES damals dazu

Keine Müdigkeit lässt Leonard Cohen erkennen, schrieb Kevin Courtney in The Irish Times am 12. September 2013. Es war der fünfte Besuch Leonard Cohens in sechs Jahren, der fünfte Besuch in Irland im Rahmen seiner Welttournee von 2008 – 2013.

"Thank you for putting your household budget in jeopardy," sagte Leonard gleich nach dem ersten Song des Abends, "Dance Me to the End of Love" zum Publikum.
Dann stellte Courtney fest: "This was the first of two nights at Dublin's O2 – he performs again tonight – and though the docklands venue couldn't hope to equal the atmosphere of his legendary concerts at the Royal Hospital in Kilmainham, Cohen did manage to turn the vast venue into a small, smoky jazz club for a couple of hours.
Kevin Courtney fragte in der The Irish Times: "So, what brings the crowds out year after year to see him? It's the sheer quality, which hasn't diminished with age?", nicht ohne eine Antwort zu geben. – es ist seine Stimme: "His voice is pure liquid gold – with a dash of bourbon and just a dollop of guilt and self-loathing."
"And his knees haven't gone, either; many's the time he gets down to beg forgiveness from someone he has wronged, or simply to genuflect at the wonder of it all.
Courtney gefällt es, wenn Cohen die Worte ans Publikum richtet und zitiert: "I'm not quite ready to hang up my boxing gloves just yet," he tells the crowd. "I don't know when we'll meet again, but tonight we'll give you everything we've got."
And he does, delivering a lengthy set of classic songs. His trusty band were with him all the way, delivering virtuoso performances that did justice to Cohen's magnificent back catalogue. Solos from violinist Alexandru Bublitchi, guitarist Mitch Watkins and laud player Javier Mas juxtaposed nicely with the gently undulating voices of Sharon Robinson and sisters Charley and Hattie Webb.
At the centre of it all, though, was Cohen's seasoned voice, delving effortlessly into seldom-reached depths of the soul. And he sounds like he still means it – Bird On A Wire was sung with fresh passion and penance, while Come Healing proved that there's redemption in this old sinner's soul.
As long as Leonard Cohen keeps serving up his smooth nectar of timeless songwriting and skilled delivery, there'll always be a welcome for him here.