by Christof Graf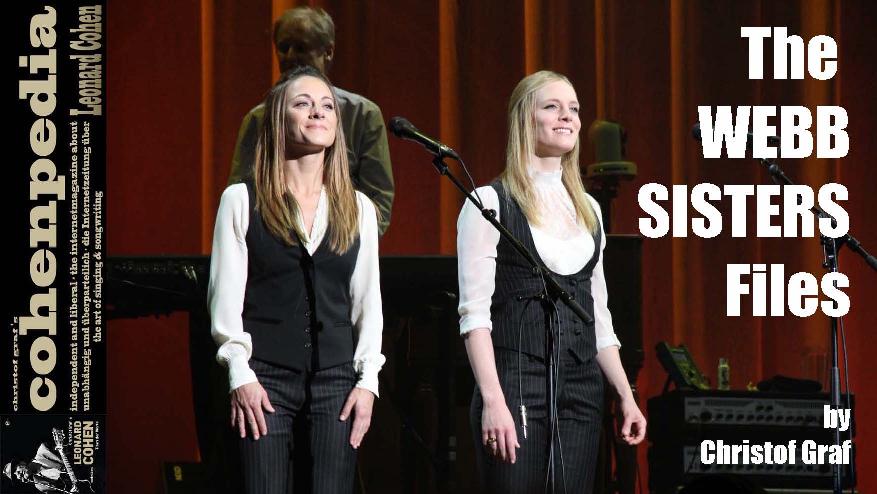 I. Introduction
II. Biography & The Story Behind
III. Discography
IV. Live-Impressionen
IV.i. Live in Gent 2012
IV.ii. Live in Stuttgart 2010
IV.iii. Live in Paris 2012
I. Introduction
Sie sind betörend, attraktiv: Charlie und Hattie aka The Webb Sisters. Die talentierten Singer/ Songwriterinnen und Multiinstrumentalistinnen wurden zu der Leonard Cohen-Tour-Band-Attraktion schlechthin.. Mit großer Originalität und Intelligenz verdelten Sie mit Gesang, Gitarre und Harfenspiel die Songperlen Leonard Cohens auf dessen Welttourneen 2008-2010 und 2012/ 2013.
II. Biography & The Story Behind
Was bis dato eher unbekannt war, sind ihre unzähligen Auftritten an der Seite von Rufus Wainwright, Jamie Cullum, James Morrison oder Jason Mraz. Geboren in Kent/ United kingdom beschlossen die Geschwister schon sehr früh Musik miteinander zu machen. Hattie spielte Harfe und Charlie zunächst Piano. Schon im Teenageralter reisten sie mit ihren recitals durchs Land. Der Plattenproduzent Johnny Pierce hörte die beiden und lud sie schließlich für Aufnahmen nach Nashville ein, wo sie ihr Debutalbum "A Piece Of Mind" aufnahmen. Sechs Monate später zogen sie nach Kalifornien und tingelten mit ihren Recitals wieder durchs Land und versuchten ihr Albuim im Selbstvertrieb zu vermarkten. Lohn der Arbeit war schließlich ein erster Plattenvertrag und das "wirkliche" Debutalbum namens "Daylight Crossing" ((2006). Zwei Jahre später zogen die Webb-Sisters zurück nach England. Auf der Suche nach "engelsgleichen Stimmen" für Leonard Cohens neue Welttournee 2008 bekamen die Webb-Sisters den zuschlag und tourten bis 2013 mit dem kanadischen Rockpoeten gleich mehrmals um die Welt, sind auf dessen zwei Live-Alben "Live in London" (2009) und "Songs From The Road" (2010), der Live-EP "Live in Fredericton" (2012) und auf dem Studio-Album "Old Ideas" (2012) zu hören.
Zusätzlich begleiteten Charlie und Hattie Web Leonard Cohen auf über 250 Konzerten im Zeitraum zwischen 2008 und 2013.
III. Discography
2006: I Still Hear It
2006: Still The Only One
2006: Daylight Crossing
2011: Savages
2013: When Will You Come Home
IV. Live-Impressionen
(Photos: Christof Graf)
IV.i. Live in Gent 2012
IV.ii. Live in Stuttgart 2010 – "Doing the Acrobatics"
IV.iii. Live in Paris 2012