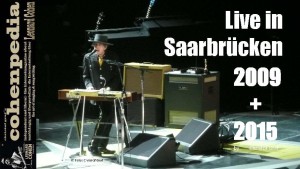 I. Introduction
2 x trat Bob Dylan im Rahmen seiner seit 1988 währenden Neverending-Tournee in Saarbrücken auf: 2009 und 2015. Einmal, 2009 als Höhepunkt der Musikfestspiele Saar, bei denen auch Wolfgang Niedecken einen Dylan`schen Chronicles-Auftritt absolvierte und einmal im Rahmen von Dylans Herbst-Tournee 2015. Über das 2009er Konzert entstand sogar ein kleines Büchlein.
II. Bob Dyaln Live in Concert 2009 Saarbrücken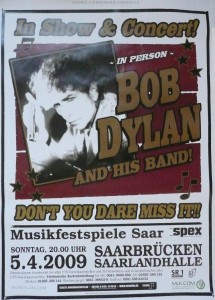 – America –
oder
Der Tag an dem Bob Dylan durch Saarbrücken fuhr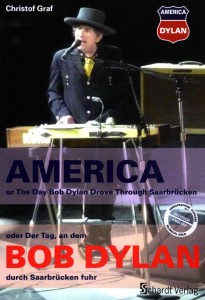 Or
"The Day Bob Dylan Drove Thru Saarbrücken"
Ein Buch in deutsch/ englischer Sprache
Foto: Christof Graf
ZUM INHALT:
In den 60ern war er ein Idol, in den 70ern wurde er zum Star und in den 80ern war er eine Legende. In den 90ern stand Bob Dylans Name längst für ein Denkmal. Im fünften Jahrzehnt seines Schaffens ist die Singer/ Songwriter-Ikone mehr denn je ein unvergleichbares Gesamtkunstwerk der zeitgenössischen Künste. Kaum ein anderer Lebensweg eines Künstlers wird derart mit Aufmerksamkeit beobachtet, wie der von Rocklegende Bob Dylan. Über 500 Songs hat er geschrieben, fast 3000 Konzerte hat er gegeben. Kaum ein anderer Musiker wird mit derart viel Respekt und Verehrung bedacht.
,,Amerika" ist für ihn Heimat und Geburtsstätte populärer Musik. Für einen Tag brachte Bob Dylan ,,sein derzeitiges Amerika" nach Saarbrücken.
Amerika – oder ,,Der Tag, an dem Bob Dylan durch Saarbrücken fuhr" ist eine Konzert- und Tourdokumentation zu Bob Dylans Neverending-Reise im Frühjahr 2009 durch Deutschland. Im Mittelpunkt der Betrachtung steht das Konzert im Rahmen der mit ,,Amerika" betitelten Musikfestspiele Saar am 5. April 2009 in Saarbrücken.
Grafs neues Buch ,,Amerika", stellt in Anlehnung an die Musikfestspiele 2009, Konzertkritiken, Randgeschichten und Rahmenbedingungen, alle Zahlen, Daten und Fakten sowie unveröffentlichtes Fotomaterial zu Bob Dylans deutschen Auftritten 2009 und seiner ,,Fahrt durch Saarbrücken" in den Fokus. ,,Amerika", das Buch in dt./ engl. Sprache mit unveröffentlichtem Fotomaterial sowie Interviews mit Wolfgang Niedecken und Helen Schneider, die Dylan ebenso bei den Musikfestspielen Tribut zollten, wird damit zum unverzichtbaren Zeitdokument und Erinnerungsstück für all jene, die dabei waren oder sich für Bob Dylan interessieren und das Saarbrücker Konzert wie auch das Dylan`sche Jahr 2009 noch einmal Revue passieren lassen wollen.
CONTENT
America
Or
"The Day Bob Dylan Drove Thru Saarbrücken"
He was an idol in the sixties, became a star in the seventies, turned into a legend in the eighties. By the nienties, Bob Dylan's name had become equivalent to a monument. After five centuries of work, the singer/songwriter-icon is more than ever an incomparable, wholistic work of contemporary art. There is hardly any other artist whose life gathers the same amount of attention as that of Rock legend Bob Dylan. He wrote more than 500 songs, gave almost 3,000 concerts. Hardly any other musician is so respected, so adored. To him, "America" is his home and the birthplace of popular music. For just one day, Bob Dylan tranferred "his actual America" to Saarbrücken.
America – or "The Day Bob Dylan Drove Thru Saarbrücken" is a concert- and tour documentation of Bob Dylan's 'Never Ending'-trip thru Germany in the spring of 2009, focussing on the concert he gave on April 5, 2009 in Saarbrücken on occasion of the Music Festival Saar by this year's motto: "Welcome America". Basing on the Music Festival 2009, Graf's latest book, "America", focusses on concert critics, off-record stories plus insights in the general framework, facts and figures plus unpublished photos on Bob Dylan's appearances in Germany and his "ride thru Saarbrücken".
"America", in German and English, presents unpublished photographic material and interviews with Wolfgang Niedecken and Helen Schneider, who payed tribute to Dylan during the Music Festival. Thus, it becomes a must-have contemporary document and book of memorabilia for all those who experienced the festival or take a general interest in Bob Dylan.
Prof. Dr. Christof Graf, professor of Media Sciences & Management, journalist, radio, print and online media contributor, has authored several books and articles on Leonhard Cohen and Bob Dylan (,,Man On The Road – The Never Ending Tour 1988-1999").
engl. Übersetzung: Susanne Meyer-Binder
I.Einleitung/ Introduction
Strassenleben oder der Mythos einer nie endenden Konzertreise/ Street Life Or The Myth Of A Never Ending Concert Trip
Der Geist der Zeit oder die Suche nach Edelsteinen/ The Spirit Of Time Or The Search For Gems
Philosophie des Unerwarteten oder die Kunst immer ein anderer zu sein/ The Philosophy Of The Unexpected Or The Art Of Being Another
II. Willkommen Bob Dylan, Welcome America (Die Musikfestspiele Saar 2009 als Anlass zur Tournee)/ Welcome Bob Dylan, Welcome America – The Music Festival Saar 2009 – The Reason why Bob Dylan is touring thru Germany in 2009
III. Bob Dylan`s Amerika von A bis Z – Amerikanische Orte, die Bob Dylans Werk beeinflussten/ Bob Dylan`s America from A – Z – American Places that have inspired Dylan`s Work
IV. Wolfgang Niedecken – Von der Kunst des Übersetzens und andere Artikel/ The Art Of Translation – A German Singer/ Songwriter is into Bob`s Work
V. Bob Dylans Deutschland-Tournee 2009/ The Days Bob Dylan Drove Thru Germany in 2009 – A German Tour Report
VI. Amerika oder ,,Der Tag, an dem Bob Dylan durch Saarbrücken fuhr" oder ,,(K)ein Konzert wie jedes andere – Das Saarbrücker Konzert von A bis Z/ America – Or The day Bob Dylan Drove Thru Saarbrücken – Or Just Another Gig – The Saarbrücken-Concert from A – Z
VII. Helen Schneider über ihre Bob Dylan-Version von ,,Just Like A Woman" – ,,Worte so tief wie das Meer" & ,,Die Todsünde trägt Abendkleid"/ Helen Schneider -An American Singer/ Actress about Bob`s ,,Just Like A Woman" and some re- and previews in German Press
VIII. Neue Ansichten und alte Lieben oder was Bob Dylan in Saarbrücken verheimlichte/ Eine Plattenkritik von Bob Dylan`s ,,Together Through Life" in DIE RHEINPFALZ vom 10.05.2009 / New Point Of Views and Old Love An Review of Bob Dylan`s New Album ,,Together Through Life"
IX. Saarbrücken After/ Was geschah noch im Jahre 2009?/ What Else Happend in 2009 ?
X. Epilog: Joan Baez
XI. Anhang/ Appendix: Diskography, Tourneedaten, Live in Germany (1978-2009), Abbildungsverzeichnis, Quellen
III. Bob Dyaln Live in Concert 2015 Saarbrücken