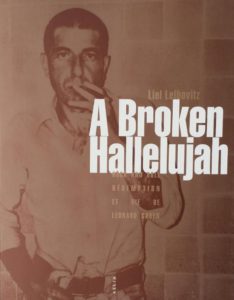 A Broken Hallelujah:
Rock and Roll, Redemption, and the Life of Leonard Cohen
(Englisch) Gebundene Ausgabe – 14. April 2014
von Liel Leibovitz
A new brillant version of a brillant book in French (éditions allia) (April 2017)
traduit par Silvain Vanot
So der Titel eines brillanten Buches über Leonard Cohen. Es ist mehr als nur eine Biographie. Es erschien anlässlich Leonard Cohens 80. Geburtstag und wurde seitdem in mehrere Sprachen übersetzt. Aus meiner Sicht, ist die gerade erschienene französische Ausgabe, die interessanteste und liebevoll wie professionell zusammengestellteste.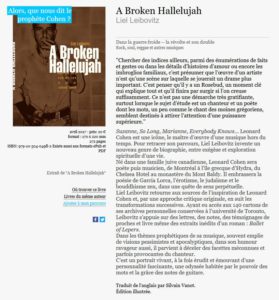 http://www.editions-allia.com/fr/livre/778/a-broken-hallelujah
More about the French version, you can read here
(used by permission of èditions allia)
''Chercher des indices ailleurs, parmi des énumérations de faits et gestes ou dans les détails d'histoi­­r­­es d'amour ou encore les imbroglios familiaux, c'est présumer que l'œuvre d'un artiste n'est qu'une scène sur laquelle se jouerait un drame plus important. C'est penser qu'il y a un Rosebud, un moment clé qui explique tout et qu'il finira par surgir si l'on creuse suffisamment. Ce n'est pas une démarche très gratifiante, surtout lorsque le sujet d'étude est un chanteur et un poète dont les mots, un peu comme le chant des moines grégoriens, semblent destinés à attirer l'attention d'une puissance supérieure.''
Suzanne, So Long, Marianne, Everybody Knows… Leonard Cohen est une icône, le maître d'œuvre d'une musique hors du temps. Pour retracer son parcours, Liel Leibovitz invente un nouveau genre de biographie, entre exégèse et exploration spirituelle d'une vie.
Né dans une famille juive canadienne, Leonard Cohen sera poète puis musicien, de Montréal à l'île grecque d'Hydra, du Chelsea Hotel au monastère du Mont Baldy. Il embrassera la poésie de García Lorca, l'érotisme, le judaïsme et le bouddhisme zen, dans une quête de sens perpétuelle.
Liel Leibovitz retourne aux sources de l'inspiration de Leonard Cohen et, par une approche critique originale, en suit les transformations successives. Ayant eu accès aux 140 cartons de ses archives personnelles conservées à l'université de Toronto, Leibovitz s'appuie sur des lettres, des notes, des témoignages de proches et livre même des extraits inédits d'un roman : Ballet of Lepers.
Dans les thèmes prophétiques de sa musique, souvent emplie de visions pessimistes et apocalyptiques, dans son humour ravageur aussi, il parvient à déceler des facettes méconnues et parfois provocantes du chanteur.
C'est un portrait vivant, à la fois érudit et émouvant d'une personnalité fascinante, une odyssée habitée par le pouvoir des mots et la grâce des notes de guitare.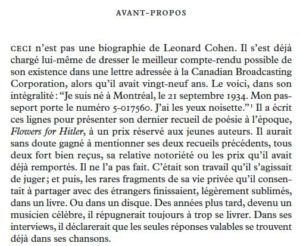 Im Verlaufe des Buches gibt es zehn meiner Fotos, wie z.B. hier: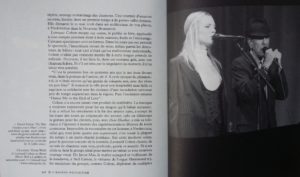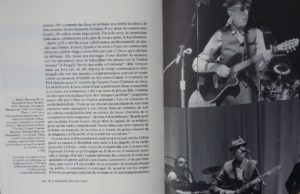 Die englischsprachige Original-Ausgabe gab es 2014 in jeweils einer US- und UK-Version.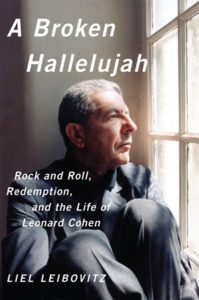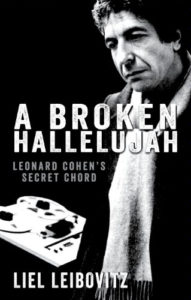 Darüber hinaus gab es noch Ausgaben in tchechischer, rumänischer und serbischer Sprache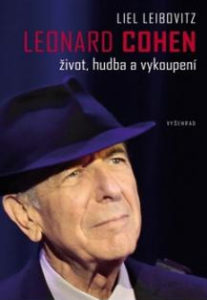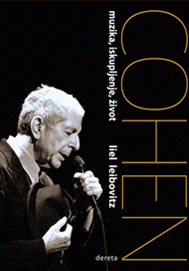 Why is it that Leonard Cohen receives the sort of reverence we reserve for a precious few living artists? Why are his songs, three or four decades after their original release, suddenly gracing the charts, blockbuster movie sound tracks, and television singing competitions? And why is it that while most of his contemporaries are either long dead or engaged in uninspired nostalgia tours, Cohen is at the peak of his powers and popularity?
These are the questions at the heart of A Broken Hallelujah, a meditation on the singer, his music, and the ideas and beliefs at its core. Granted extraordinary access to Cohen's personal papers, Liel Leibovitz examines the intricacies of the man whose performing career began with a crippling bout of stage fright, yet who, only a few years later, tamed a rowdy crowd on the Isle of Wight, preventing further violence; the artist who had gone from a successful world tour and a movie star girlfriend to a long residency in a remote Zen retreat; and the rare spiritual seeker for whom the principles of traditional Judaism, the tenets of Zen Buddhism, and the iconography of Christianity all align. The portrait that emerges is that of an artist attuned to notions of justice, lust, longing, loneliness, and redemption, and possessing the sort of voice and vision commonly reserved only for the prophets.
More than just an account of Cohen's life, A Broken Hallelujah is an intimate look at the artist that is as emotionally astute as it is philosophically observant. Delving into the sources and meaning of Cohen's work, Leibovitz beautifully illuminates what Cohen is telling us and why we listen so intensely.